What's that you say? A sock on my hock?
Sorry for the disjointed post early this morning (umm.. yesterday morning). My #2 Jerry Springer moment. I have a genuine JS moment...but I'll share that embarrassing story later (not).
Here's the finished sock. I've successfully cast on for the mate, with help from
Wanda
. She's got a trick to help join in the round which involves much trickery. Please ignore the ends that I have not weaved in quite yet.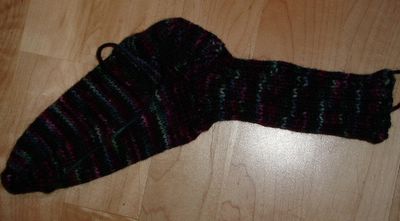 I liked the colors better in the hank, even better in the ball, but I do like knitting with the Interlacements! Soft and forgiving.
At the birthday party, someone brought a puppy. See? I about bit my tongue off to keep myself from squeezing this puppy to death. Yes. Elmira, that's me. I'll love him and hug him and squeeze him and feed him and name him George.

sweetest thing



puppy porn

I suggested we raffle him off as a door prize to the party, but that wasn't received well at all.
I'm off to CA on Thurs morning. Wed will be spent doing laundry and cleaning, so shouldn't be anything exciting to report. I'll be back on Tues, the 31st, and hopefully will have some stash enhancement to flash.
PS. I love Six Feet Under. I'm on season 3, disc 4. WTF is wrong with Billy? And poor poor Claire. Let me be the mean bitch and say I'm glad Lisa is gone (sorta).