how often is too often?
We had the
littleton meetup
last night, and it was SO much fun. We met at the B&N, then a big bunch of us (9, to be exact) headed off to the Hacienda for some margs and food.
Stacey
, her mom,
Cathi
, Tam, Ellie,
Libby
,
Anne
, and a few others all enjoyed some really tasty margs and food.
Marg anyone?
The aftermath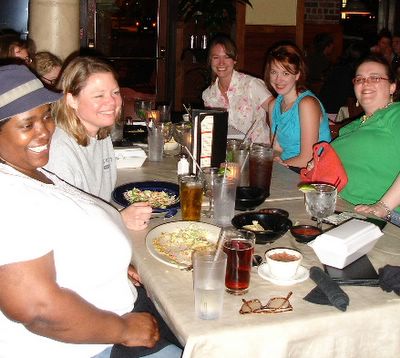 Holey kreikey, Batman! Almost lost the post while I played around with the pics.
Anyhoo, after stuffing ourselves to the gills, we shuffled back to B&N for some knitting. It was pretty late (almost 10pm) so not too much knitting was done. Cathi worked on her "just beachey", Libby worked on a very cute ballet styled wrap sweater, Stacey and her mom worked on their claps... I had plans to get the front of my tank going, but seeing as I left the pattern at home, I was forced to work on
Tempting
... which isn't all that tempting to work on. A girl can only take so much k2p2 before she signs up for the looney bin. Or commits a felony so she can work with Interlacements in prison instead. I wish I had some pics of all these WIPs, but the carb coma had fully set in.
Oh! Prior to setting off to the meetup, I decided I needed some sort of yarn justice for the almost failed yarn crawl from Saturday. I headed over to Colorful Yarns, on University & Arapahoe Rd (in the same plaza as Southglenn Mall). They had lamb's pride seconds, which I snatched up for some future felting projects. Another bonus is that it's open on Saturdays from 10-6pm! If you're gonna go, look for the brown office building on the SE corner of the plaza (nearest to Sears). It's on the bottom floor of that building.
The thought of the week... I know I promised to post more often now that I'm on summer break, but really, how often is too often? If I was a more productive (aka faster) knitter, or had a more interesting life, then I would blog more... but I just don't think anyone wants to hear about all the journal articles I'm reading about competency in multicultural counseling. Or all my drunk friends. Stacey turned me onto
Laurie's
blog, who can make the most mundane events in her life into the snort coffee/soda out of your nose funny.