Fricka fracka... grumble grumble
Until I settle on a pattern for the tank tops for the summer, I've been figuring out how to knit with DPNs. I bought some size ones, b/c the store didn't have any size 2s. My hands and fingers will adjust to using these teeny tiny needles, but how come I can't figure out how to PURL on these fuckers? I was trying to do some ribbing for practice, and I noticed that my stitches were all effed up if I had to change from knit to purl at the same time I went from one needle to another. Am I missing something? It's probably something completely obvious, and I have all the faith in the world that the Denver Knit Crew can help me here.
Ok, now that I've got that rant thar out of the way...
Can I gush about how lucky I am that I've found such a wonderful group of people to knit with? Even though I've just begun my journeys with these beautiful people, my life and heart have already been deeply touched by these special people. They've opened up their hearts, their creative genius brains, and their homes to me, making me laugh when I needed it, and tirelessly helping me stumble through my never ending quest to become a competent knitter. How come it seemed so easy to meet these wonderful people (
Cathi
,
Stacey
,
Wanda
,
Michelle
, etc etc!!!) in just a few short weeks, but I can't find a decent man to DATE, much less have a meaningful relationship with? Maybe I'll start crashing
Jon's
men's knitting group.
Oops. I slipped back into ranting, didn't I? On to Stash Enhancement... a subject that will rarely lead to ranting... on with the show.
Silk & Socks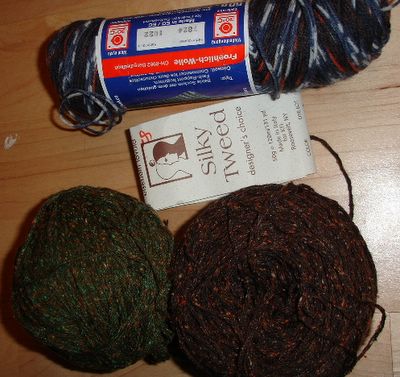 The brown and green silk tweed (Elsebeth Lavold's). I have plans for a nice tank out of this stuff. I bought mostly brown, and there was this one lonely green skein. C'mon! What's a girl supposed to do? Don't you think it'd make a beautiful accent color? like a trim at the bottom and top or something?
The blue/white/orange stuff is sock yarn. I've been swatching with this stuff.
Suzie

Yes yes. This sad scarf is the same one from the very beginning of my blogging days. Since finishing the clap, I've been working on this one. See how the stripes are getting thinner? My friend made the comment that it looks like Charlie Brown's shirt. Hmph.
But the pattern did give me an idea that maybe someone more knowledgeable and creative could help me with... How about a tank that is one chevron wide? There is a similar idea floating around out there from
Interweave
but I like the look of this pattern better.
Toasties

My very first skein of Interlacements!! Toasty Toes. See how colorful it is? Aren't we proud of me? It's even got some (gasp!) pink in it.
I bought most of this stuff (except for the sock yarn) at
LaTiDa
which was having a sale. The interlacements were 25% off, and the silk tweed was 40% off!