The good, the bad, and the ugly
THE BAD
Since the last post, I've spent the majority of my waking hours in a classroom. I had class on Thurs evening, then for 5 hours on Friday, 8 hours on Saturday. It was even worse than usual, not just because of the ugly (see below), but because I knew that as I was sitting there listening (not really), I was
MISSING OUT
. As you can see from Felicia's post, that while I was being bored to death,
Chez Cathi
was bustling at the seams with knitting, gabbing, and SUNDAES. I missed SUNDAES. Hmph. Yes, that's a note of bitterness you're detecting.
THE UGLY
Plus, I'm either having an allergy attack or I have a cold. I've decided I have a cold, since I don't want to admit to allergies. I had a non-existent voice and sore throat first, then the stuffies. Yuck. Let's move onto
THE GOOD
And there's a LOT of good to report. First,
RAOKfromKnittyCath

I got this very sweet card from
Catherine
on Thursday evening after my superboring class (in keeping with the optimistic/nice tone of the second half of the post, I will say that I have enjoyed most of my classes, but I've got senioritis. This semester is my last semester that involves coursework). It was a great pick me up to get the card!!
On Saturday, after nearly DYING from boredom, I came home to a mailbox STUFFED to the gills. I thought it was the package my brother was sending me (with a new card for my camera, so I can take more pics) but LOOK!!
kittywithRAOK

Both cats were ALL over this unexpected gift from
Stacey
. I was grinning ear to ear because I think the
Cujo
Koigu she SO generously gifted me is the same skein I was fondling and drooling on at our Meetup last Tuesday evening.
RAOKwithPrecious

This picture is just for Stacey. See how well the
Cujo
Koigu and Classic Elite Lush yarns complement my precious? It was 'meant to be.' (My brain cells have all decided not to work today... what movie is that from? the whole 'meant to be'? anyone? Bueller?)
Seriously folks. I was feeling so... RICH on Saturday evening. I wanted to sleep with my new yarn. The Classic Elite Lush is softer than a baby's bottom. Made of equal parts angora and wool. And do I need to gush about the
Cujo
Koigu? I promptly took a nap underneath my blizzard shawl, then knit knit knit on my clap.
thewholeclap

anotherclap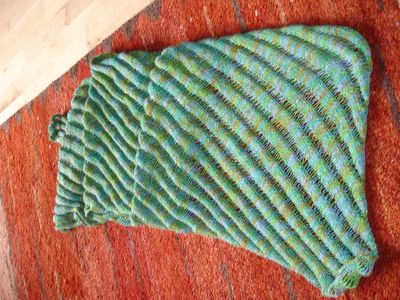 WOOHOO! I have another TFO! I was going to take pics before weaving in ends and such, but thought, no, finish it NOW NOW NOW or you'll never do it. I love it, and it was such a joy to work on, I can see why people make more than one. I have a teeny tiny ball of the bamboo left, and I was sweating it near the end, wondering if the scientific process Cathi told me about was going to work out. I had planned to take a pic of the leftovers, but the brain didn't remember this morning.
Last pic:
myclogs

These are my first set of clogs that I made (for myself). They live at a friend's house, as a preventative measure to having wet socks/feet from dog slobber.
So now the question is... what should I cast on for now? I suppose I
could
finish some WIPs... but what fun is that?