In for a penny, in for a pound
Like I said before, my friend wanted a chocolate cake for her birthday, and she got it!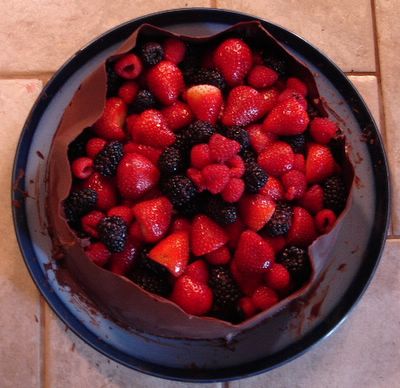 Now, if you're comparing my cake to the one from
Pastrywhiz
, you can stop reading my blog.
I made it from scratch. The cake part (more like a brownie), the ganache, the mousse, the chocolate ribbon surrounding the cake. The only part I did not make by scratch is the raspberry jam. And I did not grow the fruit myself. My arms are killing me. Needless (and needle less) to say, i did not knit last night. I was covered from fingertip to elbows in chocolate.
My friend thoroughly enjoyed the cake. As did I, so I get to keep my Righteous Woman's Union Card. The finished product was HEAVY. I would guess it weighed in at about 15 lbs. I used between 3-4 lbs of chocolate for this one! I brought home a bit of it to share with my knitting crew, so they can weigh in their opinions later. I'm thoroughly impressed with myself right now, as I didn't really think I would be able to pull this sucker off.
Go see how
Cathi
lovingly referred to her progeny. I'll trade her one of her BWB's for one of these...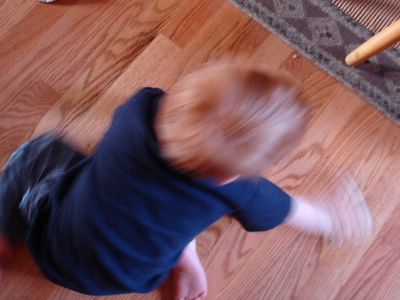 a floor cleaning model! I suppose I can't trade away my friend's kid, huh?
While we're on the topic of trading... has anyone else seen
this game
? You can win stuff. Like Jimmy Choos. Nuff said.
I'm hoping to have some knitting progress to blog about soon. Going over to
Stacey's
tomorrow evening for a tutorial on sock knitting and to watch the ER. The weekend is busy, since I have a wedding, hot yoga, and a
floor cleaning bitch's
friend's kid's birthday celebration to attend. His mom gets cake, he gets duplos.