Busy bee...
Edit
: posting w/o pics for now...b/c Cathi is impatient to read about my trip and my yarn acquisitions. let me cut the suspense right now and say that the blabbering below contains very little knitting content. Pics to come later when the camera is charged up. Plus, I'm busy cleaning. I got in yesterday afternoon, and a friend from the east coast is flying in today for a weeklong visit. Shit.
back to the regulary scheduled program...
My trip out to California was really fun... My best friend's little boy turned THREE and is about the cutest thing ever. He has finally developed long term memory, which means I don't have to spend 2-3 days getting him warmed up to me. He sure knew a sucker right off the bat! I played with hot rod cars, train sets galore, star wars toys, and read many many books.
I've had too much cake this month though... (we worked on the decorating for quite some time). See how excited he was about the cake?
I worked a wee bit on the tank (maybe 4 rows) but got quite a bit done on sock #2 of toasty toes. Is it just me, or does this sock yarn make socks that gives everyone cankles? (shudder). The yarn is really soft and a delight to work with, but I think these socks are only to be worn with boots.
(pics of cankles)- coming soon to a blog near you.
For more puppy pleasure, I introduce you to Bo: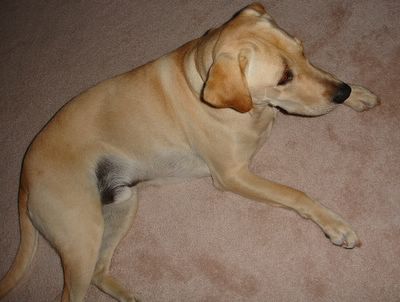 We didn't make it to any yarn stores...which is fine b/c the $$ will be forwarded to the Estes account. Sorry to disappoint
Cathi
but between 4 kids, and Memorial day weekend, there wasn't much time to get to any LYS. The two of us were lucky enough to cajole the husband into babysitting so we could go see the new Star Wars movie. Yes, I used the term 'babysitting' very deliberately. My friend must ask her husband to 'watch' their son if she needs to do something sans kid. (the other three kids are his kids from a previous relationship).
Last, an interesting tidbit I just learned today.. will be of particular interest for
some
. This
blog
about a woman and her HORDE of kitty kats, is the same woman who created
Jem
and the Holograms. I've been reading about her moggies to offset any worries that I am crazy cat lady... and all this time, she's been the creative force behind JEM. It's truly outrageous.
Edit (again):
When I got back, I had packages. I've been stealthily acquiring yarn via internet. I bought some berroco glace to make yet another tank top, and some cascade 220 came in for some clogs for a friend.