This little piggy went to the market...
aka baa baa black sheep have you any wool?
in which I reply, yes sir, yes sir, three bags FULL. (
Jenifer
, you were missed).
I'm back from my travels (finally) and recovered by going to
Michelle
's pre-festival sleepover/knit night. The whole crew was there!
Amy
,
Wanda
,
Cathi
,
Stacey
,
Mishaele
,
Lesley
, and Tami (who I didn't get to talk to much, sorry).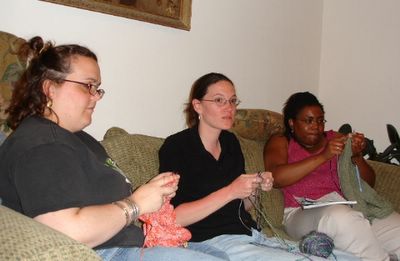 Cathi
, damn her hide, has another FO.
We spent the evening excitedly eating, chatting, going through Michelle's stash, and enjoying Thomas' hosting skills. As you can see by Lesley's contented face, he makes a mean margarita!! Michelle and Thomas really put out the red carpet for us all,
">
making brownies, crudite, personal sized lemon cheesecakes, guac, chips (of the potato and tortilla variety), french onion dip, and other goodies!
Michelle
's got it good...Thomas played uberhost so that she could have time to knit (instead of pouring us rounds and rounds of margs), and her kitty
Tamiflauge, kept us all entertained until she pooped out in the wee hours of the night.
Stacey, Amy, and Tami left, but the rest of us camped out on the couches and floor so we could get an early start on the FESTIVAL. We met up with
Libby
,
Stacey
, and Stacey's mom at Flatirons (for coffee and ATM action). Off to the market did all these piggies go!
We went on TWO rounds of splurging. Pre-snack, and post-snack. Here's one of us with our first taste.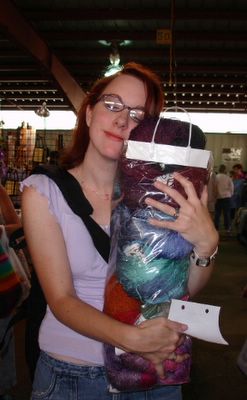 Here's what the spoils of
Cathi
, me,
Michelle
, and Stacey's mom looks like in the back of the car.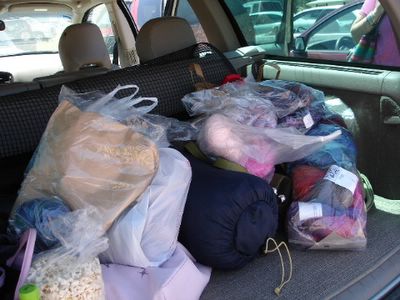 And by the way? The apocalypse is coming. Really! Stacey spent a good portion of the knit night actually KNITTING on her OSW. Then, at the wool market, she bought NO yarn.
She
's either the model of restraint and wonder, or the little chick's predictions were true about the sky falling.
We stopped in Lyons to fill our bellies and come down from our highs.
From left front to left back: Libby, Cathi, Mishaele, Stacey, and Stacey's mom.
From right front to back: Wanda, Lesley, Michelle.
Here's what I'm adding to my stash:
From upper left: a gift for my SP, cotton ease in candy blue(from Stacey's trunk), interlacements (two skeins), three skeins of Koigu, and two skeins of
Brooks Farm Yarns
.
The interlacements: blue/green skein is 8 ply ray/flax (16oz skein, 1200yds, 85% rayon/15%flax) and dyers choice (16 oz skein, 1325yds, wool/silk blend).
Brooks Farm: blue/green/purple skein is Four Play, 4 oz, 270yds, 4 plies of 50% silk and 50% fine wool.
blue/gold/purple skein is Primero, 100% kid mohair, 8 oz, 500 yds.
I'll be making 2 pairs of socks out of the KPPPM.
Genius
figured I could use the solid skein to do heels and toes, using the variegateds for the major portions. The primero of BFY will turn into a Charlotte, the Four play will be a relatively simple scarf to show off the yarn, and I have no plans for the interlacements.
I'm considering going on a YNBA until fall knitting commences... Unless there's a good sale somewhere.