Sis-boom-bah!!
I love fireworks...and I have a terrific view from my balcony, which faces Mile High Stadium, er, Invesco Field. I've had people over for the 4th in previous years, but since it's almost illegal to celebrate the 4th w/o grilling some burgers, and I don't own a grill, I watched the works on Saturday night. Invesco put on a show all three nights...
But let's get back to unfinished business. Brown sheep.
these machines do something to the yarn. twist the plies, wind it off the cones, something something. I was too in awe of all the yarn in the factory to be paying attention to what the tour guide was saying...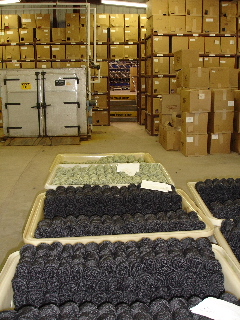 These are lovely lovely huge bins of just finished yarn... I love that sage
green color, which wasn't to be found in the shop. Sniff. And do you SEE those boxes and boxes of yarn? Ready to be shipped to a store not near you? The factory is much smaller than you would expect, but good news!! They have new machines coming in soon, might be there already, which will speed up production!!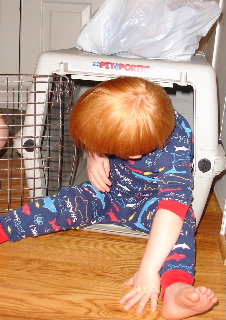 I'm a mean mean honorary auntie. A friend brought her puppy to the 4th of July celebration dinner in this crate, in which I convinced little man he belonged. That would be him trying to crawl in backwards at the urging of his Auntie CynCyn.
All you mommies will probably not let me near your kidlets now. I am really good with kiddos...how else do you think I convinced him to get in?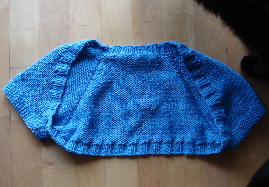 Oh. Still catching up here. Here's the finished
OSW
. I made it out of less than one skein of Candy Blue Cotton Ease.
Closeup of the picked up stitches on the shoulder that I've been complaining about at meetups. Obviously, I need to get a tutorial on how to pick up stitches when there are increases involved in the pick up area...any volunteers?
Last but not least, a pic of us enjoying ourselves at
Jenifer's
home last Friday. Her hubby and kids are adorable, with some super hosting skills. We had designer sodas, wine, food coming out of our ears, and adorable rugrats making us all go 'awwwww' when they asked mommy to sing them to sleep. From L to R,
Cathi
,
Stacey
, Shirley (who doesn't have a blog),
Kristen
who I finally got to meet!, and
Michaele
, working on her VIB projects.
We've got from l to r,
Lesley
working on her Bad Penny,
Michelle
working on the ever tricky Triada, and
Wanda
, also working on her Triada.
I'll be gone (again) for a week while I spend some time with my best friend, her boy, husband and his three kids. Yes. 4 kids total. We'll be in Telluride, which I'm convinced is the most beautiful area in Colorado. I've got class tonight (teaching, not taking) until 10pm, and I leave bright and early tomorrow morning to make the long drive. Hopefully, I'll have time to knit while I'm there, but I have the sneaking suspicion I'll be spending most of my time playing with Roman, and Thomas the Train.