obsessive much?
who me? naaaahhhh.....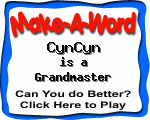 ok. i can not deny that i am an obsessive type. I have been playing this game relentlessly, just so I could figure out what was above 'master' level. I feel like I've won an award.
I have almost no knitting news, nor do I expect to have any in the next... month. What I do have...
a breathtaking pic of the sunset, taken from my balcony earlier this evening. i thought it quite apropos, seeing as my time in Denver is quickly coming to an end.
I have been doing some knitting... on Reid from knitty, mystery stole. but it's pretty random and slow.
In other news,
Celia
and I are opening up the registration for the
Third International Scarf Exchange
. We'll be posting up rules tomorrow. Please shoot us an
email
to let us know if you're interested. Rules are basically the same as the last go-round, but we're just doing scarves this time.