packing it up
i'm supposed to be packing. I've got about 16 days left in Denver... and I'm stalling/procrastinating about packing. I manage to do about 2-3 boxes per day... but I let myself off the hook way too easily.
see what I've found?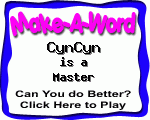 I think it might just be
Bookish
who actually goes and plays and gets as obsessed with this stupid game as I am.
I have to make the confession that I earned a strike on Stashalong. In a moment of complete...forgetfulness, I bought 5 skeins of Patons Grace so I could make Reid (from knitty.com) for some little girl... either my professors 3 month baby, or my tiny friend's 6 mo old. I guess we'll see, depending on how long it takes me to finish, huh?